First off I must say that it is close to impossible to put into words exactly how making this album makes me feel.  I could not be prouder of it.  This project is truly the honor of a lifetime for me.  Not many people get to meet their heroes and even fewer become good friends with them.  Plus I was given the honor of making a tribute album to my hero that is produced by my hero.  The whole thing blows me away.  My entire dobro style is based on Tut's pickin' and I've always wanted to record his tunes.  I was near speechless except for a yes when he asked me to do it.  It is a dream come true.      Tut and I sat down to start working out the song list.  His first suggestion was that we would not include Little Green Pill or Me and My Dobro.  He said both of those had been done plenty before and we should focus on some of his more recent songs and obscure tunes.  He put Mist on the High Meadow and Swampwater on the list.  We should also try to stay away from too many tunes that were already on the Southern Filibuster tribute album.  The song Southern Filibuster was definitely out because Jerry Douglas set the new standard for it.  I said that I really wanted to do Ghost Picker, Steven's Steel, and Oasis anyway because they are some of my favorites and he agreed.  Tut then added Double Clutching, Pickin' Flat, and Oconee and I put down Cakewalk and Goodlettesville Express.  He said we should have at least twelve songs to make a good album and a couple extra tunes just in case wouldn't hurt.  My picks were Westgate and The Buffalo Left Yesterday while he added Running Wild and Vamp in the Middle.  He wanted Vamp to be an instrumental version like he did on his album The Dobrolic Plectral Society.  Said he wanted it on there because he loved the way I played the tune.  Plus it was one of those first songs I heard him playing on that drove me to flatpick the dobro.  Tut said that he was putting me in charge of recording the album with the final mixes and song selections pending his approval and he would do all of the album art and design work. 
     The first recording session I did solo, recording Oasis and The Buffalo Left Yesterday with just guitar and dobro and that's all.  I wanted Oasis to be a tribute to Tut and Norman Blake's picking together.  A tribute within the tribute.  I loved the way they played off of each other on the tune.  It was one of the first songs of Tut's that I had learned and I wanted to take extra special care recording it.  It  turned out to be one of my top favorites on the album.  Tut and I had a long conversation in the past about how The Buffalo Left Yesterday should be just guitar and dobro like he and Steve Barker used to do it.  I had seen them perform the tune years ago at Merlefest before I met Tut.  There's a great video on YouTube of Tut and Steve playing the tune.  Just the two instruments together make the song much more emotional and moving.  Less is more.  We mixed down the first two songs and sent them off to Tut for approval and he was thrilled.  He told me that my version of Oasis took him places and he loved it.  That was one of the proudest moments of my life. 
    Tut was busy with  the album art concept and design.  It was his idea to use the Lone Wolf McQuade handle that I use on occasions due to the Chuck Norris movie.  Tut wanted to do a wanted poster for the cover art with the slogan Wanted: for playing the dobro with a flat pick, and the name was perfect.  I sent him my bio information and he started working on the liner notes and getting the art together. 
     The first recording session with the band was scheduled for a full day and was to be recorded live in the studio at Big River Records in Fayetteville, WV with our good friend Brad Kinder.  The band included myself, Paul E Johnson on guitar, Xander Hitzig on fiddle and tenor banjo, Orion Hitzig on mandolin, and Garry Segal on harmonica and resophonic bass.  Clint Lewis would join us on bass later.  I had sent copies of Tut's versions of all of the songs to everybody in advance and we all had been learning and practicing the tunes on our own.  The Hitzig brothers had stopped by my house the day before and we ran over a few of the tunes to test out some ideas but mostly we jammed on Oconee.  So while the mics and such were being situated, we tuned up and the Hitzigs started into Oconee.  I showed Paul the guitar part in a few seconds and Garry jumped in on harmonica.  I hadn't even thought of harmonica on the song and it sounded perfect.  We played the tune a few times and then quickly sat down and recorded two takes of it back to back with Segal on bass without the harp.  The second take is what you hear on the album.  I wanted to make sure not to turn Oconee into just another dobro tune.  It was one of my favorite mandolin songs of Tut's and I wanted to try to stay close to the original feel.  Garry added his harmonica part and we were ready for the next song.  Swampwater was next on the list and we set it up the same way.  Ran over it a couple times and recorded two takes.  Garry added the harmonica to the second take and on to the next.  We repeated the same process for the rest of the day with Mist on the High Meadow next.  Run over it and record two takes.  I especially wanted Garry's resophonic bass on Mist.  I had first heard Tut play it was with The Kruger Brothers and I really wanted that reso-bass sound they had back then on our version.  We did two and half takes on Goodlesttesville Express with no bass.  I really wanted Clint Lewis to play stand up on it.  The train wrecked shortly after departure on the first take but we quickly got back on track and rolling fast.  Towards the end of the second full take I slid the bar up to the high G and then just stopped and said that was good enough while everybody else tried to put on the brakes.  It was all I had.  I had never played that song all the way through twice in a row before and my arm was on fire.  Xander then laid down two takes on the fiddle, not being satisfied with his first.  Right after the second take Brad said that he wanted to hear it played back with both fiddle takes together.  So we listened to it for the sake of why not.  Well, that's what is on the album.  I had originally intended for Garry to add harmonica as well but we all came to the agreement that two Xanders just sounded too good to pass.  Next was Vamp in the Middle done in the same fashion. With cigarette breaks, lunch, and a beer run turned trip to the liquor store for Rick Flairs we finished five songs in the first session before we ran out of daylight and sobriety.  Oconee, Swampwater, Mist on the High Meadow, Goodlettesville Express, and Vamp in the Middle.  I sent the rough mixes to Tut and we discussed a few changes to the mixes but nothing major.  He was more than happy and could not wait to hear the final masters. 
     Some musicians can be a little superstitious and me being one of them from time to time.  The first session with everybody went so well that I was sure that my favorite Tut Taylor t-shirt and most comfortable jeans had to be part of the magic.  When the day of the second recording session with everybody came around I dressed in the exact same configuration of garments even down to the socks.  Had to keep the juju flowing right.  The Hitzig brothers met me at the house that morning so we could ride up to the studio together.  Both of them were dressed exactly like they were during the first recording session.  Comments were exchanged and after deliberation we came to the consensus that great minds think alike.  
     The second full session was going to be set up similar to the first except this time we did not have a bass player with us.  For the remaining songs and Goodlettesville I wanted Clint Lewis to play stand up bass on them but he wasn't available to join us yet.  We followed our formula of rehearse it then record it live and if the first one wasn't good enough then record it again.  We ended up recording two takes on just about every song unless you count the dozen or so times I messed up the first five notes of Steven's Steel.  Brad might even have some blackmail worthy material on tape from that.  I've heard a lot of different recordings of Tut playing Steven's Steel and one of my favorites has always been with The Kruger Brothers,  featured on their Carolina Scrapbook albums and I wanted the same feel on our version.  The next tune on the list was Pickin' Flat.  This is one of my all time favorite dobro tunes period.  I usually play the song out of the key of G but with the instrumentation that we had I wanted to do it in A like on Tut's album Dobro Country with Clarence and Roland White.  I put on my capo and we ran over it and then recorded two live takes as usual.  The last song to be recorded live was Cakewalk.  Which contrary to the title is one of the harder tunes to flat pick on the dobro.  It uses a lot of Tut's backwards cross picking roll and alternating cross picking.  I really wanted to stay true to the original version of this song which is on Tut's album Flatpickin' in the Kitchen with Norman Blake.  We kept the same setup for the solos as the original and let her rip.  We recorded two takes and everybody gave it their best.  I could not be happier with itand love how it turned out.  Now it was down to the songs to be tracked out.  Paul was done for the day and left early.  I recorded the guitar for Ghost Picker and then the dobro track.  Xander finished it off with the fiddle.  No more then two takes on any of it.  I really wanted this one to feel like the original on the Friar Tut album but with a fiddle.  I love the haunting sound from Xander's fiddle as he plays on the edge of the bow with only a few hairs.  Next was Double Clutching.  This is a "lost" song of Tut's.  I ran across the only recording I've heard of it in Tut's personal recording archive.  It's a tape of him and Norman Blake playing the tune that was labeled as untitled.  I've never heard it on any of his albums or in any other recordings of his.  I asked him about the tune and he said that he had forgotten about the song years ago and never recorded it or even named it.  He then title it Double Clutching.  I surprised him a few days later by playing it for him.  I recorded the guitar track first and then the dobro.  The Hitzigs polished it off with the fiddle and mandolin.  I swear that they played it better than I heard it in my head and hoped for.  Outstanding playing!  My hat is off to them every time I hear it.  We were finished before sunset.  The only thing lacking on these tunes was some bass.  Once again I sent the rough mixes to Tut and he approved with some minor adjustments.  We agreed that Ghost Picker was not to have any bass on it.  It had the perfect feel as it was and didn't need anything else. 
   I had scheduled an afternoon for Clint Lewis to record the remaining bass lines at the studio and of course I was dressed accordingly for luck.  Clint's session lasted 40 minutes.  He recorded one take on everything except Double Clutching and only because I made him do it again just to see what happened.  We got the rough mixes together and sent them to Tut. 
     Tut was almost finished with the album design.  He sent me the cover by Dick Blattenberger, the rear cover by Jon Griffin, and his final draft of my bio for the liner notes, but he was still in need of a song list.  I decided to cut Running Wild from the list but I still wanted to record Westgate and Arlo Buck and add to Mist on the High Meadow.  Unfortunately we were running out of time and had only a few weeks left to have everything finished and mastered.  At this point we had 12 songs finished and I decided to cut the last recording session to save time and meet our deadline.  So we finished mixing everything we had and started mastering it while Tut finished the album design.  I couldn't be prouder of what we recorded.  Everybody played amazingly on it and made it a great album.  I can't thank the guys enough.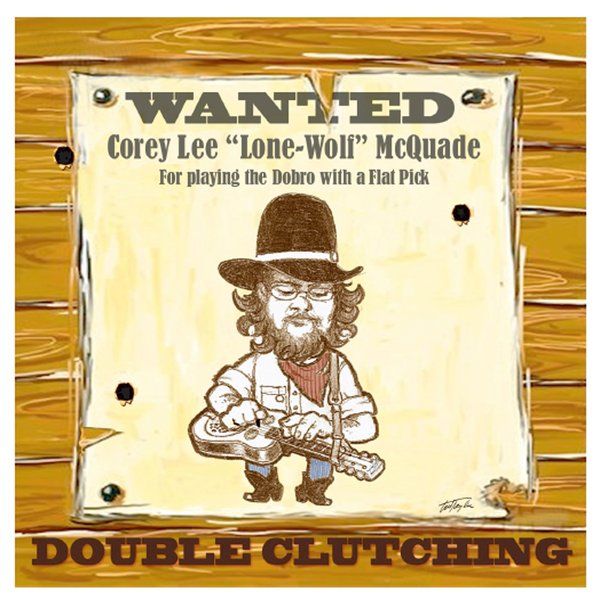 Tut had a CD release party scheduled during the ResoGat in Wilkesboro, NC.  I got the final masters to Tut with just a few days to spare and he got everything together for production.  I had seen most of the album design except for all of the liner notes.  Tut was saving that until I got down to Wilkesboro.  When I arrived at the ResoGat, Tut had a booth in the vendors section with a large banner announcing the release of the album on Tutlee Records and he smiled as he handed me a copy of the CD.  I opened it up and inside I read, 
     At Merlefest in 2010 I was asked by a fellow Dobro player if I had heard this guy playing the Dobro with a flat pick just like me.  Interested, I invited him to come by and he did.  We shook and I asked him to play for me.  Not knowing what to expect, I was knocked off my feet.  I could not believe what I was seeing and hearing.  Not only was he playing with a flat pick but he was playing my tunes just like me.  I was thrilled beyond measure.  Flat picking the Dobro had come into its own.  I was so pleased.  I then knew that the tradition would be carried on for many years after I'm gone.  Enjoy this CD.  It is a work of art by a master.  
                                                          -Tut Taylor 
     I sat there for a minute or two or ten, I'm not really sure how long.  I was frozen in an almost catatonic state.  It felt like time had stopped for a second after I read that last line he had written.  Tut leaned over and asked me how I liked it and I was at a loss for words.  All I could say was, "Wow!"  He looked at me and asked if everything looked alright and I told him it was absolutely wonderful.  I was still stunned.  I'm sure I had that deer caught in the headlights look on my face.  I may not have completely snapped out of it yet to this day. 
     The CD release party was a great success.  Tut and I played a bunch of tunes together and talked about flat picking and how we met and all.  We had RC Colas and Moon Pies for a packed room full of dobro pickers.  We had such a good time picking and talking that we almost forgot to play the CD.  I always treasure the time I get to play with Tut and this one most of all.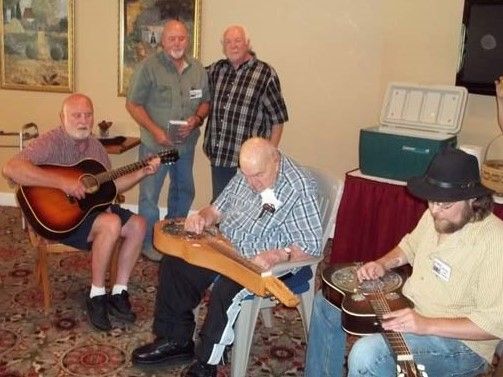 David Taylor, Robert Taylor Jr, Mark Taylor, Tut Taylor, and Corey Lee McQuade at the ResoGat 2014 (photo courtesy of Bobby Wolfe)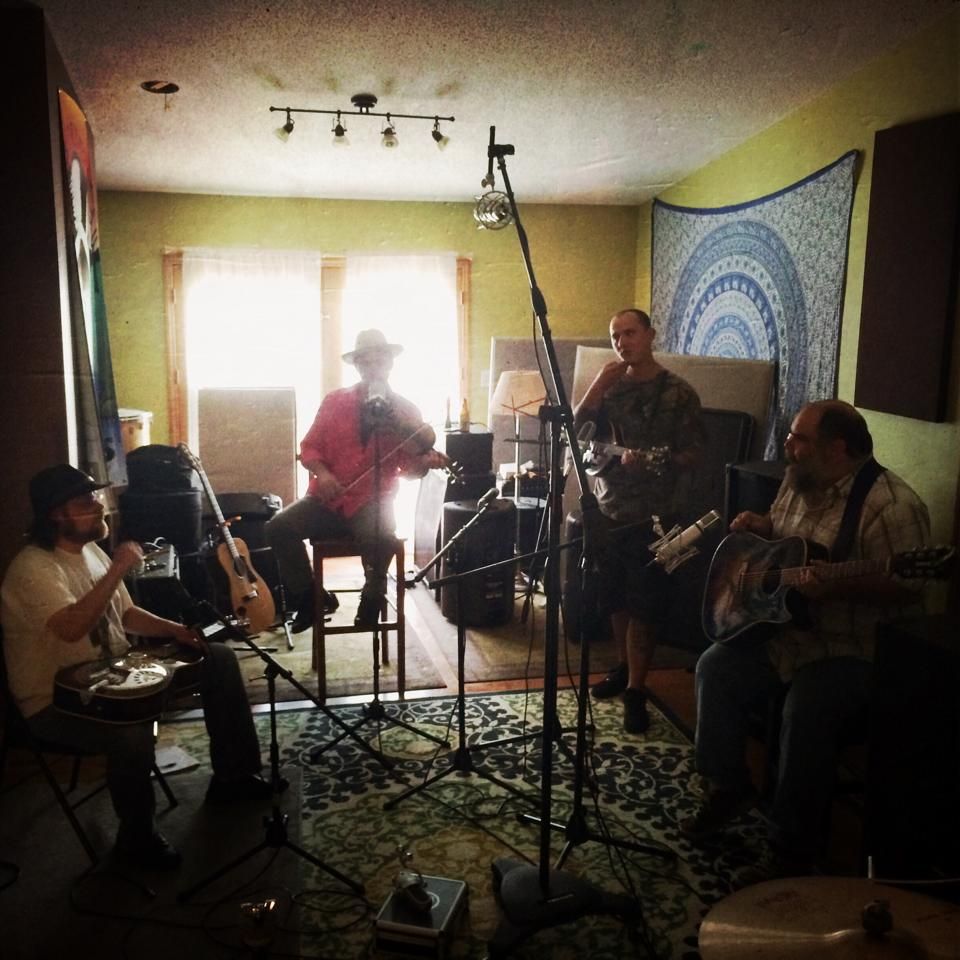 Recording "Double Clutching" at Big River Records (photo courtesy of Brad Kinder, Big River Records)